Favor is a Dutch fashion app created by Appisode One and developed by iOnline in 2016. What Nick Bruijn, Ian Haima and Stef Lindeman – the founders – had in mind when they were thinking about this app concept was simple, yet innovative: to create a way of sharing your personal style and make other users judge it.
Social Currency
Favor is based on something called 'social currency', which means sharing what makes us look great to create recognition, status and an identity. It represents your value to the world. The type of social currency that Favor employs was thought for young people in the digital world who are seeking for likes, comments, followers and acceptance. However, we can find bullies pretty much everywhere. For this reason, the information shared by users in the Favor platform is as lighthearted as possible.
Challenge
The way it works is the reason why it has been attracting so much attention. Basically, it can be seen as a fashion challenge. There are 50 cities you can select from. Once you have chosen one, you will be representing it by uploading a photo with your personal style. Then, people will judge every city and the one that has more likes goes on the top.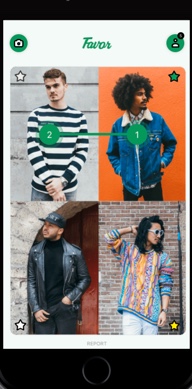 Screenshots of the app
The App
With this app, consumers will be able to:
Create and participate in challenges with friends and other Favor users

Know people by sending them requests

Express your preferences by sharing your style and rating other users' style