2019 H1 +H2 Online Grocery Shopping Report Germany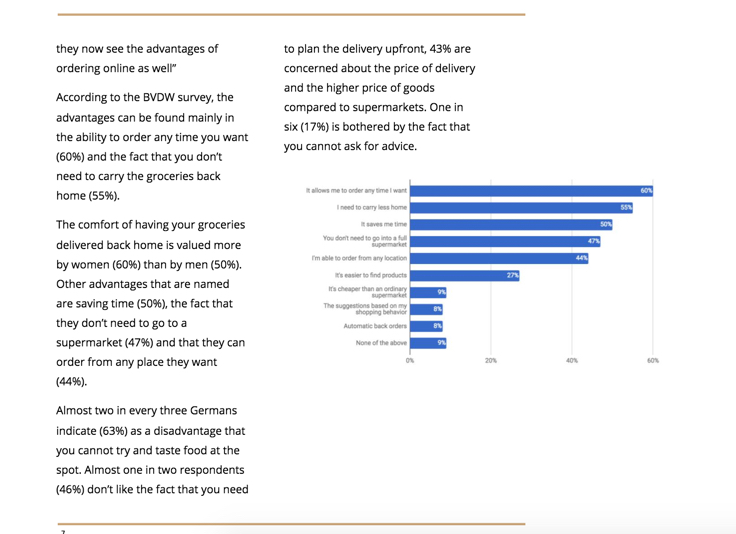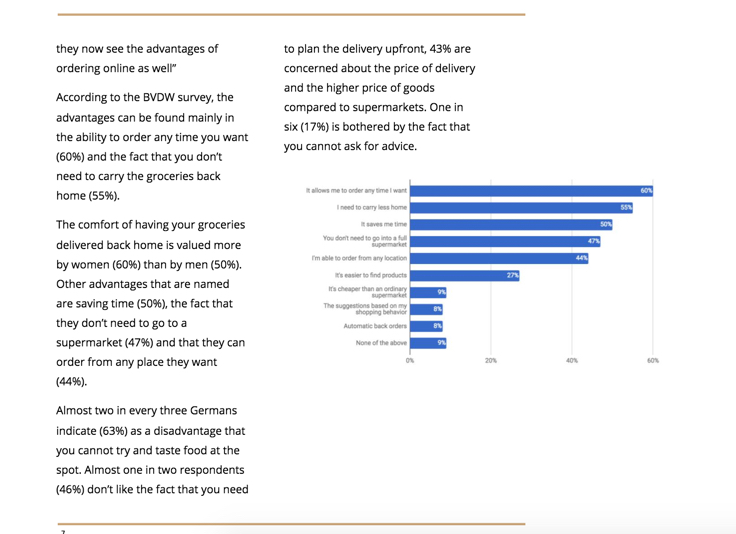 2019 H1 +H2 Online Grocery Shopping Report Germany
Buy the H1 report now and get the H2 report in November 2019 (save 200 euros)
The German online grocery market is expected to grow to 3.6 billion euros in 2023
Although it is just still a fraction of all grocery spends, recent growth figures are impressive: over the last few years, the online grocery segment grew with 20% on average.
About the report
We keep track of the latest developments within the German online grocery market: who are the key players, what do consumers want and what were the most important developments in last six months?
The online grocery shopping report is a must-have for anyone who is active in the groceries industry in Europe. It gives a clear overview of recent developments within the industry combined with more elaborate stories and articles.
Contents:
A brief overview of last quarters market developments and trends

Consumer insights and figures

a description of new players, new services and new products
Stay ahead of competition
In order for you to know identify (potential) competitors in a market that could be worth 3.6 billion euros in 2023, the report provides you with a an oversight of the key competitive information needed
Market players
The companies they are owned by

Their relative sizes

Product range (#SKU's)

Fulfilment/ Delivery options
Mergers and acquisitions
The key characteristics of a dynamic market is change: yesterday's competitors may not be the same as today's. We keep track of the latest mergers and acquisitions to monitor competition.

Stay up-to-date
In order for your business to be fully aware of the latest developments within this market we keep track of the what is happening
Latest developments
Summary of the latest developments

Trends identified

Leading news articles (translated into english)
Opportunities identified
In order to identify the chances for you as a business, we summarise and analyse the state of the current market and identify a set of opportunities. We are backed up by market facts and figures:
Market size and numbers
Number of consumers currently involved in online groceries

Revenues made by online supermarkets

Future growth expectations
Market research
We summarise main findings from consumer research published by leading research companies such as Roland Berger, Nielsen, GFK and BEVH